In Eduction, we have this theory. If we can connect one subject's curriculum to that of another subject, our students will learn better, will retract more information, and will ultimately be more successful in life. This isn't a new theory, it's been around for a while. If you go your local high school/middle school, you can see it in action. Why does this work? Well to answer that question we have to explain how the brain works. The brain is series of electrical currents...or connections. Bad connections=no flow. So when we connect this subject to that, when the student is sitting in class, the brain gets that extra connection. Yeah that's great, but why post this on a music forum? Well, music is just the same! I'm going to present this to you in a way maybe you haven't seen before, and maybe it will help you as a musician. (Is a little long, sorry!)
In music, our first connection other subjects is incredibly easy! Heck, we're classified under it! Yes, arts. More specifically performing arts. Well, what's an art? Art is:
the
quality,
production,
expression, or realm, according to
aesthetic
principles,
of what is beautiful, appealing, or of
more
than ordinary significance. Music is considered a performing art, and marching band is also a visual art. This is our most basic connection, and when you learn about the Arts, music is always included in this.
Do you know what the next connection is? Yes, it is Science. More specifically, acoustics which is the Science of Sound. Every note has frequency that it vibrates at. This vibration creates a sound wave. A sound wave is a disturbance in the air. Lower sounds create slower moving waves. Higher produce faster moving waves. If we could could look at this on a graph, it would look something like this: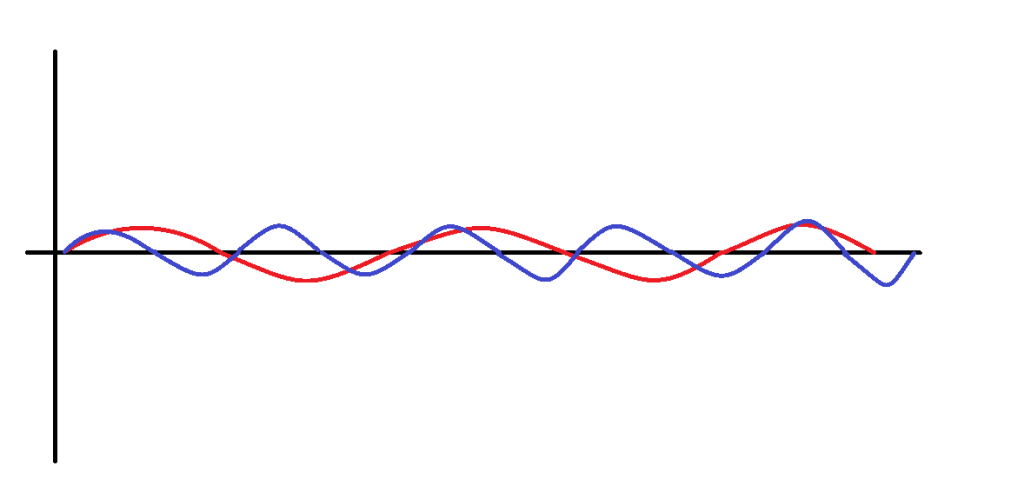 (please ignore the crudeness!)
The red line in this is showing a lower frequency, and the blue is showing a higher frequency. You may not know, but the height (and depth) of each crest of the waves is the volume of the frequency. Now given this information, do you know (or can figure out) what octaves would look like on the graph? Everytime the lowest frequency hits (so say middle C), every higher frequency will hit at that exact same point, just with times crossing in between. This is why Middle C and C abouve it sound the same but are clearly an octave apart.
This ties nicely into the next connection. Math. Every interval on the grand scale is the result of a mathematical formula. It's not playing darts it's here the next time it's here. No, the note will always be in the same "point" on the graph. This is why as musicians we can be trained to play instruments...because of the math behind it. Although we don't realize it, we're playing the result of the formula.
So there's two core subjects left, can you figure out which one is next? Language. Why? Because music
IS
a language in of itself. In your English class you're thought how to build sentences, form paragraphs, and put the paragraphs to form longer passages until you get to books. So it goes words--->phrases--->sentences--->paragraphs--->page (essay)--->chapter--->book, right? Each building on the previous part. Music is the exact same way!
I have here a single half note in 4/4 time. For us musicians, this is a single word. And from here, the music will build upon itself. Now of course for us, this is a very basic concept. Yes, measures put together produce music phrases. We all know this.
Lastly, we try to study the history music. It has of course, been here since long before us. It was in the trees.