Emerging out of the new wave of Swedish progressive music, JONAS LINDBERG & THE OTHER SIDE present their EP 'The Other Side'. Due to the craftsmanship of the musicians, the refinement in songwriting and production, this is a truly stunning release. All performances are expressed with emotion and conviction to blend in a high-quality symphonic prog brew, travelling along the borders of AOR-style. Being a multi-instrumentalist, Jonas Lindberg shows his skills on bass, acoustic and electric guitars, keys, mandolin, back vocals and programming. The lead singer Jonas Sundqvist is reminiscent of Mark Truesak, albeit there're occasions where I think of Colin Blunstone too. Drums are played by Jonathan Lundberg, guitars by Calle Stalenbring, keyboards by Michael Ottosson. The whole offer has five songs, approx 30 minute in duration: from subtle inflections to fast-paced pieces. 'Lies' is a great opener, immediately affirming the patent sound with floating melody lines backed by tantalizing keyboards and vibrant bass. Aussie Unitopia is a good point of reference. Alan Parsons Project is another comparison. The sparkling title track easy could have been on any Moon Safari album. Elements of Yes and Genesis prevail in 'Where to Begin'. It reminds about 'Owner Of A Lonely Heart' but the whiffs of Tony Banks permeate the second half of composition. It's followed by 'Little Girl', a sensitive ballad which makes the content go out like a night candle. To spice up the recipe, 'Line No. 18' is the longest song (8:23) fusing elements of Yes, Toto, Kansas and TFK. Here, the vocals aren't a million miles away from Chris Squire himself. I'd say that this is a fine conclusion to the consistent release.
http://jonaslindbergtheotherside.bandcamp.com/
These talented guys are pros in every sense of the word, delivering far more than one would expect from a melodic progressive outfit. My hope now is that Jonas Lindberg and his crew will find some inspiration to give us a full-length album without waiting too long.
[URL]http://www.lindbergmusic.com/
[/URL]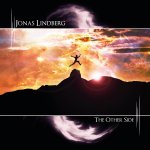 Last edited: