Dear community,
herewith I want to present you some new names of musicians and composers from around the globe, deserving more exposure and recognition anyway. These all are the names from my friends' list on MySpace – I truly enjoy their music and want to share it with you.
The first name in this list is
Alvin Lloyd Masters
- composer and pianist from Atlanta, US. If you like the music of Ludovico Enaudi and George Winston – you may want to check out this link too.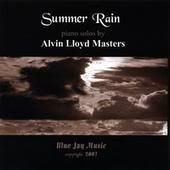 "My style is between classical and pop. New age sounding but more classically influenced. Beautiful lush melody creation is my primary goal when composing." - Alvin Lloyd Masters.
Summer Rain - produced, composed, and performed by Alvin Lloyd Masters - has appealling lyrical melodies that are the composer's trademark style. With many years as a pianist, composer, producer, and instructor the composer feels that much of this work is some of his best. Suffering from severe tinnitus in 2003 the composer regained his ability to hear again near perfectly and began composing again at a maddening speed after purchase of some Sibelius software which is currently the composers greatest addiction. After around a two year time period the composer has written around 1000 musical works ( !!!! - A.R. ) mainly for solo piano in his melodic classically influenced style.
Alvin is a great supporter of the Royal Conservatory of Music and their examination program in the states and he and his students have received great support and encouragement from this well recognized and respected organization. In fact Mr. Masters has recieved Honors First Class with Distinction nine times in the examination program of the conservatory. Perhaps more impressive is the fact that he has prepared and entered over 500 candidates in these prestigious and demanding exams.
You can listen to the samples from SUMMER RAIN here:
http://www.myspace.com/alvinlloydmasters
My personal faves are : Summer Rain, and Discovering Lost Dreams.
Hope you will enjoy this wonderful music – any feedback appreciated.
Best of luck,
Andrew