Being in the choir as a child, onstage as a musician as an adult, on TV as a candidate,
never got into my head, about myself and my body.
But online, especially last night, that changed. I felt self-conscious in a new,
and you might say dark, or half-dark, or low-level lighting kind of way.
Some might say candlabrodcasto, or lampinetta, lighting.
It's different when you are forced to paint lying on your back.
You're going to see that. Showing you is the only way to move forward.
I know computers are hypnotizing and addictive technology, spy technology, only coded work.
But I am feeling a new self-consciousness, a new duality between offline and online.
How wrong can I be about life and the music and art that defines it?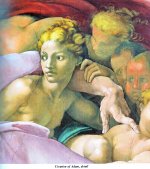 This is going to be blunt, and, it's a good thing I'm just blunt.
Scan1: When the sun is being made, there certainly is a moon.
Scan2: What's with the only suggestive finger, bent way backwards, a lefty.
Scan3: I didn't know the snake in the garden of Eden was a female.
Is it just me, or is this a very sexual rendering?
Scan4: It's a cliche to joke about Scotsman and sheep. Whats this?
Is that an ecstatic ram's head sticking up out of the cows horns?
Scan5: I see a face. Does anyone else?
Scan6: If the artist is keeping it small for the main focus, and it's pointing,
is the figure below, a female, showing us how big it really is?
Seeing these nude men makes me wonder how I would fit in, body wise.
I have nine photos I want to use, moving below.
Last edited: