Administrator
Staff member
ADMINISTRATOR
Regulator
My new double-album
"Like a Flame"
has been released and the first review have arrived.
I will update this thread whenever new reviews trickle in. If you stumble across a review of "Like a Flame" not listed here, please do let me know either by replying in this thread or by private message - whichever you prefer.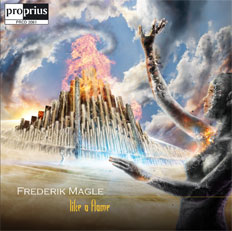 ​
REVIEWS IN ENGLISH:
​
• Frederik Magle's Tradition in Modernity: the Classic Art of Organ Improvisation on "Like A Flame"
by Grego Applegate Edwards,
Classical-Modern Music Review
(Gapplegate Music Review)
, 28 June 2011
"...Frederik Magle has absorbed the tradition and in the persuasively rich 2-CD recital Like A Flame (Proprius 2061) gives us back his modern version of it." (...) "the results are something any aficionado of organ music will find delightful. His improvisations are varied, inventive and sonically powerful. The recording has excellent sound qualities as well."
---
• MAGLE - Like a Flame Proprius PRCD 2061
by Byzantion, Classical Music Reviews -
MusicWeb-International
, 11 May 2011
...He describes the whole experience as "psychedelic", but there is nothing hallucinatory about the quality of the results. Magle's music-making is highly creative, sometimes visionary, surprisingly unpompous (titles excepted), and always basically tonal - or at least chromatic - and tuneful.
The hour-long first disc flies past. It opens dramatically with the huge chords of 'Origin', yet the second and third pieces, 'Like a Flame' and 'Fleeting Glimpses' could hardly be more different, with their catchy ostinatos and high registers. Almost sardonically, given the comments above, the longest piece, 'To Become', is outstanding, building up a thrilling, Franckian wall of sound before relenting peacefully.
The disc ends with a marvellous Widor-like toccata, 'Ascending', followed by the almost extra-terrestrial 'End of the Circle'. It is this kind of intelligent variation which characterises the whole programme - dramatic window-rattlers alternating with pieces that are serenely uplifting or contemplative and others again that are mischievously eccentric or playful. To complement this there is also a steady flow of ideas, expertly implemented, within the improvisations themselves. At no point in the two hours is the listener's attention given cause to flag; yet the music is often so emotionally intense that, between discs, a cup of tea at the very least is advisable.
this is a double CD that no fan of original organ music should be without
---
• Not for the faint of heart
by Abi Rhodes,
Abi Rhodes' Zigzag Wanderings
, 8 March 2011
"...He is a composer/player of great depth – his instrument is the organ which he dominates with the control of an ubermeister."

"...Here is a deep dark recording of absolutely top value. Listen to it carefully – just in small chunks if you're a person of nervous disposition and certainly not as something to lull you off to sleep. It could give you NIGHTMARES."
---
REVIEWS IN DANISH:
​
• CD-anmeldelse, "Like a flame, Frederik Magle, orgel"
(PDF download - in Danish)
by Christian Præstholm (Associate Professor of organ and music theory at the Royal Academy of Music, Aarhus),
orgelforum.dk
, 30 July 2011
English translation:
"...'Crossing Borders', which is build on a small ostinato motif, shows how little material Magle needs to create a riveting toccata filled with energy"

"...'Realization'. Ethereal and beautiful..."

"...My own personal favorite is probably the very last track 'End of the Circle', which with the use throughout of a four-tone ostinato and the organ's distinctive, some would say slightly too effective, tremulant conjures up a strange, sick, fascinating, and ghostly universe, which one has to go to Ligeti's 1st etude for organ to find anything resembling."
---
• Fantasy og himmelstræbende mildhed i ny orgeludgivelse
(in Danish)
by
Christian Hildebrandt
,
SNYK - contemporary music DK
, 20 December 2010.
English translation:
Fantasy and soaring gentleness in new organ music release
by Christian Hildebrandt, SNYK - contemporary music DK

The Danish composer and organ virtuoso Frederik Magle has just released a double CD dedicated to the new organ in Jørlunde church. An organ on which he has been a tonal co-architect. The title is 'Like a Flame' and the 23 compositions with names such as 'Origin', 'Awakening', 'Truth', and 'Destiny', leads - with a late romantic dreamlike pathos - the listener into the new organ's fairytale world of sounds and possibilities.

The gentle cathedral-sound
And it is sounds that evoke images of towering pipes in Gothic cathedrals. So you can't help thinking: Is there a giant cathedral secretly hidden in the small North Zealand village of Jørlunde? No, there isn't, and Frederik Magle's introduction to the thoughts behind, and work in making the sound of this organ demonstrates that is was through the art of creating gentle and warm voices that the richest and fullest sound was achieved without overpowering the room of the relatively small church.

Gothic Fantasy
Gothic, soaring, and with a distinct touch of modern fantasy is the image that immediately springs to mind seeing the cover-art of the CD, and the almost cinematic expression and insistingly melodic character of the organ fantasies matches the picture.

The Organ in Flames
The title 'Like a Flame' tells the story of both the new organ emerging like a Phoenix from the ashes after the old organ burned down, and of the composer's glowing enthusiasm for organ music and the late romantic organ as a veritable one-man orchestra.
---
REVIEWS IN OTHER LANGUAGES:
​

• Backmans klassiska cd-tips
(in Swedish)
by Per Olov Backman,
Östgöta Correspondenten
, 22 March 2011
"Här är två nya tips på bra album med klassisk musik från vår recensent Per Olov Backman."
(English translation: "Here are two new tips on good albums with classical music from our reviewer Per Olov Backman.")
---
Last edited: