Administrator
Staff member
ADMINISTRATOR
Regulator
»Polyphony« is a wild and dramatic piece of
crossover between classical music and rock
, and I'm releasing it for the first time today on my new
online music store
in the best possible 320 kbps MP3 quality.
This music defies genre with inspiration coming from both baroque and modern classical music, as well as symphonic and prog rock and metal. But if I
have
to put it in one box it
could
possibly be classified as "progressive rock" (But I'd prefer not to). Polyphony was great fun to compose, great fun to play, you simply
must
own it!
Click here to download an excerpt of »Polyphony«

(
2:44 min.,
160kbps MP3)
Click here to buy and download »Polyphony« from Frederik Magle's own store
(7:46 min., 320 kbps MP3)
You can also buy "Polyphony" from the
iTunes Music Store
or
Amazon.com MP3 Downloads
and many other online music stores.
[YOUTUBE]dTBz0Mk5n5Y[/YOUTUBE]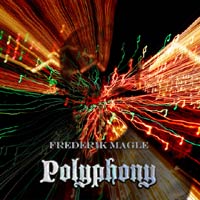 (click on the cover to view a larger version)
A variety of instruments are heard in Polyphony, such as piano,
organ
, harpsichord, celesta/glockenspiel, various synthesizers and drums and percussion.
The drums and percussion are played by the Danish rock drummer Niels Bonke.
Enjoy Polyphony!
Best regards,
Frederik
---
Guide to using the music store: Click on "Buy" below the tracks you wish to download. The tracks will be added to the "Cart". When ready to purchase click "Checkout", chose your payment method, fill out the form, and click "Approve" which will make a link to the music download(s) appear.
Note to Mac-users: The MP3 download is 100% compatible with Macs and iPods. The only incompatibility on the music store is the 30-second sample, which currently does not work on a Mac (this will hopefully change soon). Instead you can download the sample linked above.
Last edited: