Administrator
Staff member
ADMINISTRATOR
Regulator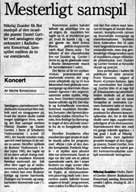 uddrag:
...Herefter fremførtes efter musikernes eget ønske et stykke musik uden for programmet: "Rejse i tid" af den danske komponist, Frederik Magle - et stykke som absolut ikke var uinteressant. Sandt at sige var der tale om et yderst spændende værk, der i toner beskrev en slags scener eller musikalske billeder.
Man kunne frygte at ekstranummerets placering midt inde i koncertens anden halvdel kunne udgøre et brud i programmet, men tråden fra Bloch blev faktisk ført fint videre med hensyn til brugen af skarpe dissonanser, komplicerede rytmer og dramatiske overgange og motivformationer.
Stykkets form fuldendtes flot til sidst med begyndelsestemaets dissonansfarvede, men dog genkendelige tilbagevenden samt af musikkens meget effektfulde afskedssalut, som Znaider og Gortler forstod at formidle skarpt og præcist.
-Mette Rothschild, Berlingske Tidende 30-01-2001
(EDIT: hele anmeldelsen kan læses
her)

---
English translation:
excerpt:
...It was a very exciting piece that described a kind of scenes or musical images.
...The shape of the piece was excellently completed with the return of the dissonant, but recognicable, main theme and the very effective final salute, which Znaider and Gortler performed sharply and precise.
-Mette Rothschild, Berlingske Tidende, January 30, 2001